LCO Playoffs, day two. The finish line is in sight for our PCS contenders

, but some of our top four will see their end in the competition a lot sooner than they'd hoped — and painstakingly close to their goal.
Last night's matches sorted teams into tonight's elimination bracket — one final chance at staying in the running for the title.
The Dire Wolves and Chiefs opened up the evening with their series, and Kim "Poltron" Nicholls even managed to sneak in a home-brand Scooby-Doo chase sequence.
Ultimately, the Brisbane team showed up in their best form as they claimed a dominant 2-0 victory over the Wolfpack — the first place team during the regular split.
To follow that series, Team Bliss reunited with Pentanet.GG once more, proving that their initial Bliss-sided meeting wasn't simply a fluke.
Actually, there might be something in the Brisbane water.
They also took their series 2-0 with a bloodbath worth of kills spilt from both sides of the Rift, but ultimately led by key performances from Tristan "Lived" Fulcher and Raaz "Whynot" Alfassi Berman.
With Pentanet and the Wolfpack set to meet again tonight, we've been hit by a feeling of deja vu… I definitely said that yesterday.
Although this matchup graced our screens last week, this unfortunately spells the final appearance for either of these teams.
Nadette's Other Pick of the Week — Dire Wolves v Pentanet.GG
Honestly, prior to this split, I don't think anyone would've seen these two teams in the fight for third place.
A lot of expectations set by the rosters were defied and shattered, such as the outstanding performance from Dire Wolves who reigned at the top of the league prior to the group stage.
On the other hand, Pentanet fell somewhat short of theirs throughout the round robin, but have experienced some of their better matches throughout the playoffs and demonstrated their ability to adapt and overcome.
Despite the best efforts shown by both teams, they were knocked into this elimination bracket without a single win between them.
Throughout their previous clashes, Pentanet has the overall winning record of 4-2, with the Wolfpack's two victories taking place last Wednesday.
Tonight it's do-or-die for their shot at PCS playoffs and I expect we'll see them at their best with their backs against the wall.
One thing I'm hoping to see is PGG jungler Shern "shernfire" Tai utilising some unseen picks as we've only seen him on four unique champions throughout this split, or if he'll risk it and stick to comfort. Although his performance has been fantastic on his usual champs, I'm curious if the Wolfpack have any counter-measures up their sleeve for the draft.
I believe that all lanes will have an entertaining clash, such as the PGG bot lane and their predecessors in Mark "Praedyth" Lewis and Daniel "Decoy" Ealam — their matchups have been quite close.
However, I'm personally keeping a close eye on the mid lane between Jesse "Chazz" Mahoney and Kim "DONGGY" Dong-geun as the Wolfpack's most recent wins against the Perth team have had their mid laner on the forefront, notably with a 10/0/5 Taliyah in one of the matches.
I would like to see if Pentanet will be keeping as close of an eye as I am here to prevent Chazz from snowballing on his signature AP mage picks. DONGGY's champion pool is notably deeper with ten unique champions to Chazz's six shown on gamedays.
If their most recent clash was any indication, the series will be quite close; however, I'm predicting PGG proceeding to their next match on Thursday with a 2-1.
LCO Playoffs Day 2 Predictions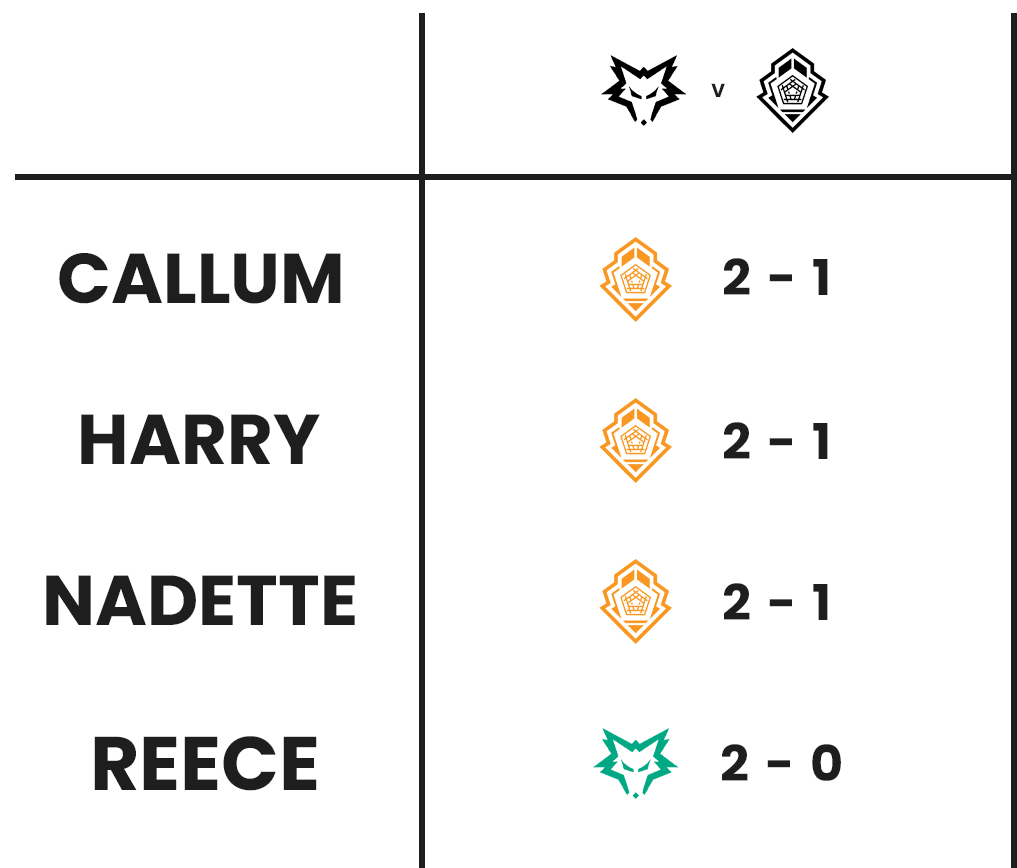 ---
Tonight's best of three will see the remaining league culled down to three teams, as Pentanet and the Dire Wolves take a page from the book of K'Sante and go 'all out' at 6pm AEDT.
Need a refresher on how playoffs have played out? Take a peek at our our ultimate coverage hub for all your viewing needs.
Follow our prediction team @CDMLoL, @ImHarryTaylor, @NadetteOCE and @Ties_AU on Twitter.