After a joyous reunion with everyone at DreamHack, things have been on pause for the past month. Without any MenuPogs to never win, it all feels empty.
Luckily for us, Split 2 of the LCO kicked off last night with Vertex's League of Legends debut against reigning champions The Chiefs.
The back-to-back champs showed no signs of slowing down against the newbies, finding two dominant victories in the first series before Vertex could find their footing.
Last split's second and third teams–Team Bliss and the Dire Wolves respectively–took the spotlight after that. For the Dire Wolves, it was their first match since they fell just short of PCS playoffs back in March.
Ground Zero Gaming and Kanga Esports have their first best-of-two of the split scheduled for the latter half of this evening.
Tonight, Pentanet is seeking redemption after a relatively early departure from last split, while the refurbished Mammoth roster gets settled in.
The first match of this evening will pit these teams against each other, setting their opening pace for the round-robin.
With the brand-new best-of-two format, anything is possible.
Nadette's Pick of the Week — Pentanet.GG v Mammoth
At least on paper, Pentanet's squad was a title contender for the last split–and still is this time around too. With almost all of the players on the Perth-based squad with experience abroad under their belts, they've got one of the more experienced rosters in the tournament.
On the other hand, Mammoth's first split team was expected to finish towards the lower end of the ladder due to the numerous rookies in their ranks. In the off-season, they've pivoted 180 degrees, parting ways with a majority of their roster in exchange for a few league veterans of their own.
It's difficult to dictate where some of these players will fall into the LCO, with a few of them making their return from abroad, or in at least the case of former Peace ADC Wang "Chayon" Yun-Cheng, they've barely had a chance to compete this year.
That being said, I believe we're in for an interesting game. Focusing on what we do know will draw us back to PGG; their considerably strong early game was often the downfall of the former Mammoth roster.
The new team will need to adapt–whether it means dedicating resources to win skirmishes or drawing out the game just long enough that PGG starts to slip up.
One thing I'm keeping an eye on in particular is the jungle matchup between Paris "Souli" Sitzoukis and Shern "Shernfire" Tai. Both players have had stints abroad and Souli is also PGG alumni, yet these junglers have yet to spar on the professional stage despite their shared Oceanic roots. I'm very interested to see how their time abroad will translate to the stage.
Although the score was 3-0 in PGG's favour last split, Mammoth has the chance to turn the tide on a reset counter for the latter half of the year. I have a feeling Mammoth may be somewhat volatile having only just assembled the roster, even though some of the players are familiar. Against Pentanet in their opening series, I'm predicting PGG 2-0.
Week 1 Day 2 Predictions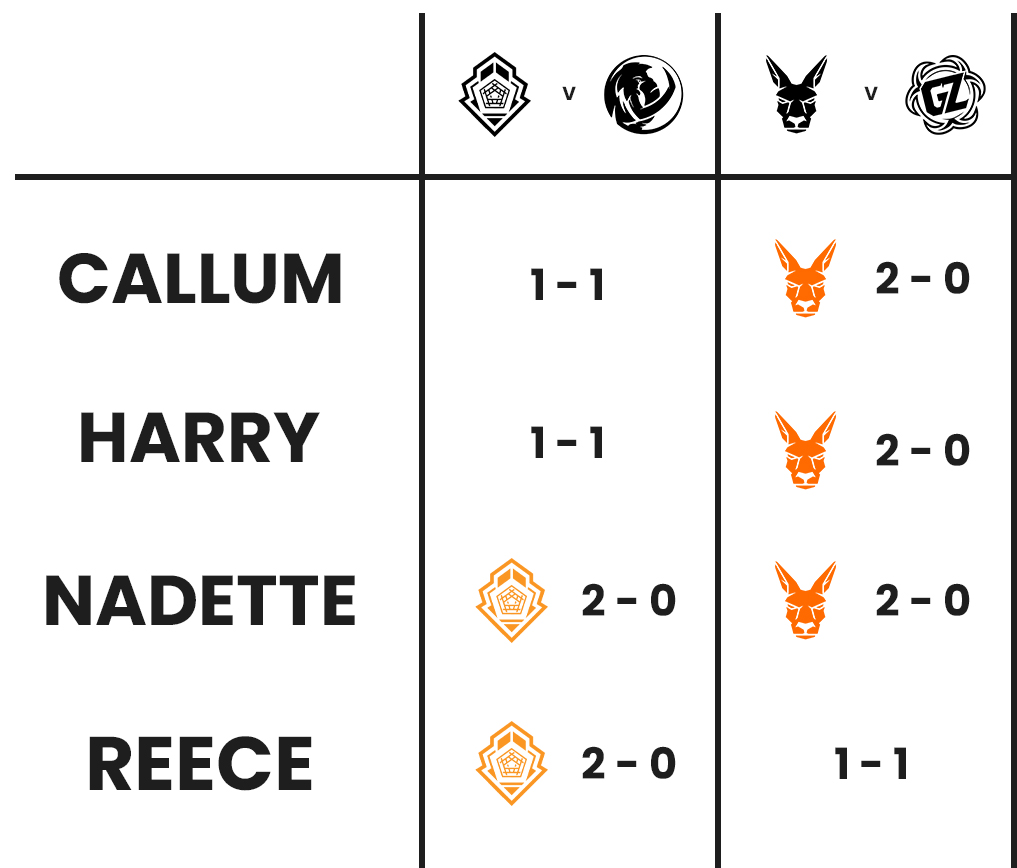 ---
With games back at 6pm AEST tonight, it's a good time to be an LCO fan.
Miss the games last night? Take a look at our ultimate coverage hub for results, standings, and more.
Follow our prediction team @CDMLoL, @ImHarryTaylor, @NadetteOCE, and @Ties_AU on Twitter.