With the two Super Weeks behind us, we enter the business end of LCO's second split for 2023. The end of stage one is upon us, with teams rushing to finalise their spots on the ladder ahead of stage two.
Vertex and Pentanet met last Wednesday, with PGG finally securing their first series win of the split. Mammoth and the Dire Wolves were on a bit more of an even playing field, but both managed to secure playoff slots regardless.
Tonight, Kanga and Pentanet open up the evening with a series integral to Kanga's fate, followed by a long-awaited reunion between Team Bliss and The Chiefs.
Although Pentanet has already secured their slot in the Split 2 playoffs, Kanga sits tied with Ground Zero in seventh place with two points to their name.
Even if they manage to get the flawless series against Pentanet, their fate is purely dependent on the results of tomorrow's matches.
Does Kanga stand a chance or was Pentanet's victory last week the beginning of a dominant streak?
Nadette's Game of the Week — Kanga vs Pentanet.GG
Kanga and Pentanet have both had somewhat disappointing splits. On the side of Pentanet, they faced four draws in a row, only to have it broken by a series loss, and then a series win; their consistency (or rather lack thereof) has been nothing to write home about.
While Kanga has the Pancake buff on their side, their strategies such as role-swapping Fighto into the jungle role haven't been playing out in their favour, now sitting in dangerous territory alongside Ground Zero.
At this point, their fate is dependent on Vertex not gaining any points, and even then, if Ground Zero and Kanga both win their series, they'll be tied.
In terms of the matchup itself, I believe that Pentanet has a stronger overall roster, especially if Shernfire is able to get a lead against Meifan in the jungle, as he'll be able to convert it into pressure on the map through his continuous ganks.
Meifan will have to keep up with or even try to get ahead of the veteran jungler to support his teammates. With their Split 2 fate up on the line, Kanga will have to pull out all the stops to have a fighting chance–but maybe under pressure will be when they succeed.
Unfortunately, I believe that even the hopes of playoffs won't be enough for Kanga to bounce back if Pentanet is determined to show up in their best form. I'm predicting another perfect series for PGG.
Week 6 Day 1 Predictions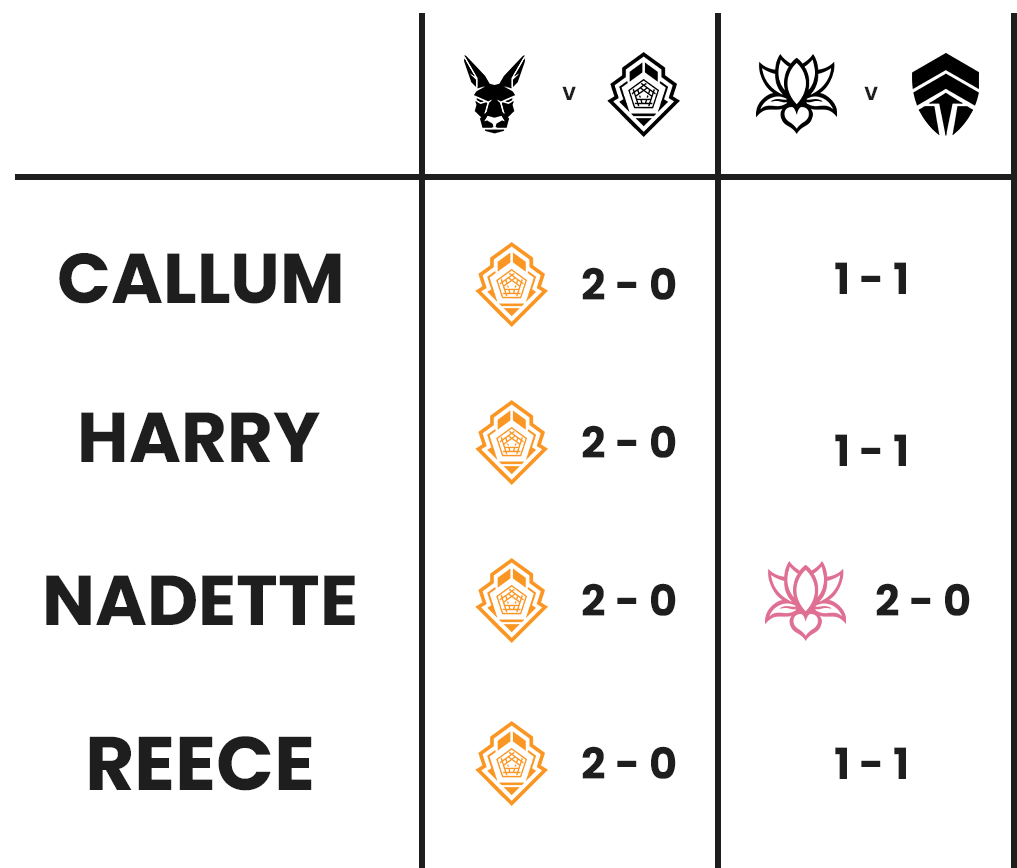 ---
The final week before playoffs is here. With only one spot left up for grabs, Vertex, Ground Zero, and Kanga are all fighting to secure it. The action continues tonight—catch up on the split so far in our ultimate coverage hub.
Follow our prediction team @CDMLoL, @ImHarryTaylor, and @NadetteOCE on Twitter.