After a bloody start to the Oceanic Pro League's second split in 2019, only one team has emerged with an undefeated record from their opening two fixtures.
Mammoth, who faced Gravitas and early title favourites the Chiefs in their Week 1 matchups, clocked up two straight victories to take early control of the standings. While the star-studded roster has shown they're on the right track, especially considering their 40-minute win over the Chiefs, coach Richard "Phantiks" Su said the roster isn't getting ahead of themselves just yet.
"If there's anything we've learned from the last split, it's that we can't underestimate any opponent," he told Snowball Esports after his team's clean sweep weekend. "There's still a long split ahead of us so being 2-0 doesn't really matter that much."
4 months ago we would have lost that game without a doubt. Progression feels very rewarding.
Gg @ChiefsESC you guys pushed us to the edge.

— Mitchell Shaw (@Destinyy) June 7, 2019
Chiefs took an early lead in the closing game on Friday, with Quin "Raes" Korebrits claiming first blood early in the bot lane, before Brandon "Swip3rR" Holland and Jordan "Only" Middleton scored two more takedowns on Stephen "Triple" Li and rookie top laner Ibrahim "Fudge" Allami.
The game descended into a battle across Summoner's Rift after the early advantages for the Split 1 runners-up, with Triple claiming a namesake triple kill in front of Baron pit ten minutes into the eventual 40-minute match.
The Chiefs still managed to roll on with their lead, marching out to a 9-3 turret lead that gave them a 7k gold advantage 36 minutes into the game. It was a teamfight that flipped the script on its head, however, with Fudge landing a major Tangle-Barbs after using Sylas' ultimate to steal it from Bradon "Claire" Nguyen on Neeko.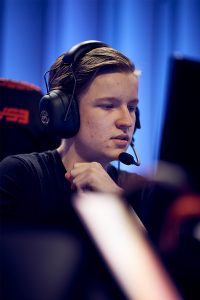 It was the breathing room Mammoth needed, and as they took control back out onto the Rift it gave them a chance in mid lane. The team was able to catch Raes and Bill "Eyla" Nguyen early in the fight, before the five-vs-three fight in front of the Chiefs' inhibitor left just Only on Olaf alive to stop them, and Mammoth was able to close out the 21-18 comeback victory.
After the nail-biting finish for Mammoth in their opening fixture, Phantiks said it was a great relief to score the reversal over the "top dogs" in the second split of the year.
"It is good to start out the split with a win against them, the Chiefs are definitely still one of the top dogs, in particular, their bottom lane duo," the Mammoth helmsman said. "However, every team this split poses a serious threat for us so we're still looking at the nine weeks ahead of us."
For Phantiks, and everyone in the Mammoth lineup that had felt the sting of the gauntlet elimination after a mixed split, it's clear the disappointment weighs heavily on their minds. If the roster can improve on their 11-10 result from Split 1, they may have a fighting chance for a spot at the Melbourne Esports Open in August.
"Each and every person on the team felt like it was an incredibly disappointing split, and have all put in a lot of effort to make sure Split 2 is our redemption arc"

Richard 'Phantiks' Su
"I think the most realistic and tangible goal, for now, is to win the finals at MEO. As long as we can improve as steadily as we are throughout the split, we should be able to pull through," Phantiks said.
---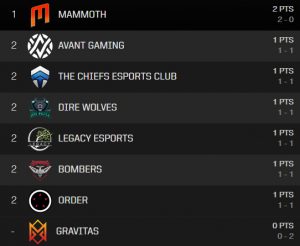 Also in the opening round of OPL 2019 Split 2, the new-look Dire Wolves kicked off their campaign with a victory over Legacy Esports, before falling to the Chiefs on day two. All but two teams have found themselves with a 1-1 record after two games, with Gravitas losing to Mammoth and Avant Gaming to take the eighth spot on the ladder.
Notably, Order claimed revenge over Bombers in the grand final rematch on Friday evening. Roster carries Simon "Swiffer" Papamarkos and Ronan "Dream" Swingler led from the front, scoring 7/1/6 and 7/2/4 KDAs respectively. Dream dished out a massive 29.8k damage to champions on Ezreal, 18k more than his opposite number.
Legacy also provided a major upset to keep Order 1-1 in the opening round. After the high of defeating the Essendon squad on Friday, the boys from Melbourne couldn't hold off Legacy in a 19-8 clash that saw the green-machine shatter Order's nexus in 29 minutes.
---
The OPL returns on Friday, when Gravitas face Chiefs in a bid for their first win of the season. Watch all the action live at RiotGamesOCE on Twitch.tv, and find the full schedule at oce.lolesports.com.