META High School Esports is set to level up, with the introduction of META University Esports. This new pillar of the META tournament ecosystem will feature hugely-popular battle royale Fortnite duo matches in its inaugural 2020 season.
Registrations for the newly-announced 2020 season are open now. Signups will be available through metaue.gg until Saturday, August 1 11:59 pm AEST ahead of the official season start date on Saturday, August 8th.
During the regional section of the META University 2020 Season featuring Fortnite, all unis will be split into three conferences ⁠— NZ Conference, Australian Eastern Conference, and Australian Western Conference.
The top 22 duos from Eastern Conference, 16 duos from NZ conference, and 10 duos from Western Conference will qualify for Championships, where they play against each other for 3 more rounds to determine the final placings and champion duo.
The NZ conference is eligible for all university students in New Zealand, WA for all Western Australian students & the Eastern Conference for all others.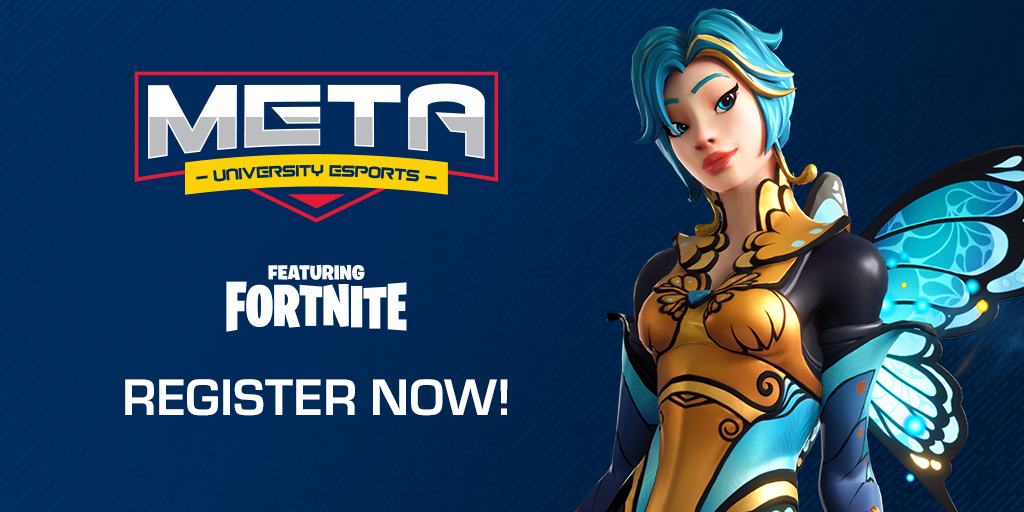 Matchdays for the regional section of the 2020 season will be played completely online. All games will be played at 1pm (NZST/AEST/AWST for corresponding conferences), and three matches will be played each gameday. Gamedays will be hosted on Saturdays starting 08/08/2020 and ending 19/09/2020. The 2020 season will have a mid-tournament break on the weekend of August 29.
Championship matchdays will be played in a similar format. These championship rounds will be held on three consecutive Saturdays: September 5, September 12 and September 19. Each day in the championship rounds will begin at 3pm (NZST/AEST/AWST respectively).
Match scoring during both the regional and championship rounds of the META Universities 2020 Season feat. Fortnite will remain the same. Players can earn points in each round via the following ways:
– Victory Royale = 10 points
– 2nd to 5th placement = 7 points
– 6th to 10th placement = 5 points
– 11th to 15th placement = 3 points
– One (1) elimination = 1 point. Eliminations for both players in the duo partnership will be combined for a total Duo elimination score.
META is also pleased to confirm the 2020 season will be entirely cross-platform, meaning players on PlayStation, Xbox, Mobile and PC can all enter. There is a minimum age requirement of 16 for all Fortnite competitors.
At this time, there are no plans for the regional and championship rounds of META University 2020 Season feat. Fortnite to be broadcast by the organisers.
---
Make sure to follow META University Esports: