The return of offline Fortnite to Oceanic shores was met with raucous applause at The Star Event Centre last weekend, with plenty of fun for those competing and spectating.
Amateur players earned their chance to compete through numerous rounds of qualifiers, with fifteen becoming team captains. The qualifying amateurs were then able to draft their dream trios for gameday, which contained an additional content creator and pro player.
Prior to the games, fans were given the chance to meet and greet some of their favourite creators such as Lachlan, Loserfruit, Muselk, Fasffy, and Lazarbeam along with the rest of the Fortnite creators and pros.
Six matches were set for the day, with three in Zero Build and three in the game's classic build mode, giving specialists in either a chance to shine.
With a share of $50,000 up for grabs among the top six teams along with the inaugural Red Bull High Grounds Champion title, the Battle Bus was ready to take off.
The first match, however, was abruptly halted as the venue's security protocols came into effect.
Everyone was evacuated from the event centre in a calm and orderly manner while the risk was investigated.
As an attendee on the day myself, I have nothing but praise for the floor and security staff at the venue in charge of our safety.
Following the brief intermission, the tournament resumed with a notable change to the format; the delay led to a drop to four games, and the unfinished opening match was rendered null.
It wasn't too long before our contestants were able to thank the bus driver once more.
With tickets sold online and at the door, Red Bull High Grounds was a great opportunity for Sydney locals to get their first taste of esports at one of the city's first LAN events since the pandemic. 
Among the spectators were Tom and Charlie, two blokes–and also huge Fortnite fans–who fatefully stumbled upon the event at The Star.
"It's been fantastic," Tom praised the event when chatting to Snowball Esports. "I've really enjoyed going in and watching. We play casually, so seeing it at an intense level–I was on the edge of my seat for most of it.
"It was awesome. I haven't been into an event in person but I've tuned in online."
"I think it's been great," Charlie chimed in. "Really fun set up for the event.
"I love the variety between the builds and the no-builds game modes. It's good to see a bit of variety."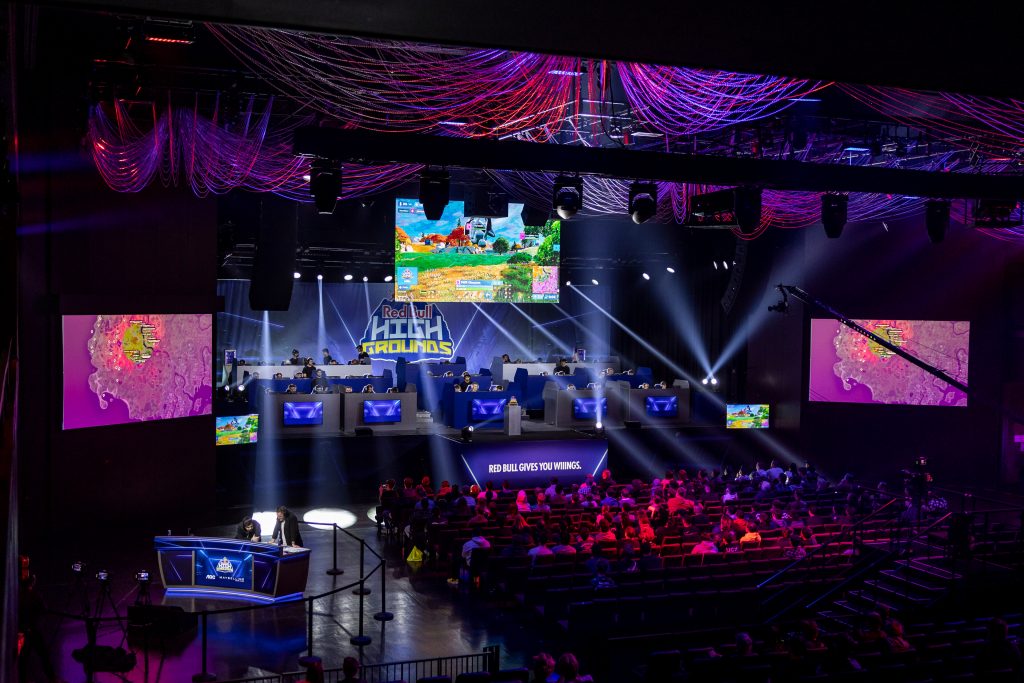 A couple of self-proclaimed Fortnite casuals themselves, Tom compares their personal experience to what they witnessed on stage, noting: "In the builds version, the storm circle became like a needle in a haystack.
"They're all fighting in this tiny area. That was insane. Nothing I could do. I think I'd break my wrist.
"I'm definitely a zero-build enjoyer. [Build mode] is so stressful [for me]."
With the Attack on Titan ODM gear and Spiderman web shooters greatly increasing mobility, some of the eliminations were a result of players being chased down across the map–but they also allowed for some great escapes.
Things started getting a bit more chaotic as build mode was introduced, with our well-versed Fortnite veterans able to build the equivalent of Fort Knox in a matter of seconds.
The phrase "high grounds" was thrown around by casters left, right and centre as the storm began to shrink around our teams; building the vertical advantage was integral to survival.
After the final match, it was taken to a tiebreaker between Goats (Vague, Phos and Anon) and Jupiter Mars Venus (Jupiter, Oasis and volx), with points generated from 'viccy roys', eliminations and overall placement.
Once the analysis was complete, team Jupiter Mars Venus was crowned as the first ever Red Bull High Ground Champions, lifting their trophies in triumph alongside their $25,000 AUD prize.
Just like that, the first post-pandemic Fortnite LAN came to an end.
There's been quite a notable lack of esports in the city ever since the lockdown. Gamers will travel down to the 'esports capital' in Melbourne to get their fix, but Red Bull High Grounds only confirmed one thing for Sydneysiders: there's no place like home.