With Split 1 of the 2023 LCO Season starting in mere hours, we've got one final contender to look at. Peace enters their third year in the competition, and after a rather forgettable 2022, they have rebuilt their roster with a brand new direction.
2023 has brought a lot of change to the LCO. A new format, a new way to qualify, and a new regional residency designation. Arguably the biggest change as 2023 began — Oceania was folded into the PCS region tag.
This change was made mostly for simplicity, but it did allow LCO teams to bring in players from countries in the Pacific region, such as Taiwan, Hong Kong, and Singapore — without consuming a team's import slot.
One team took real advantage of this change: Peace.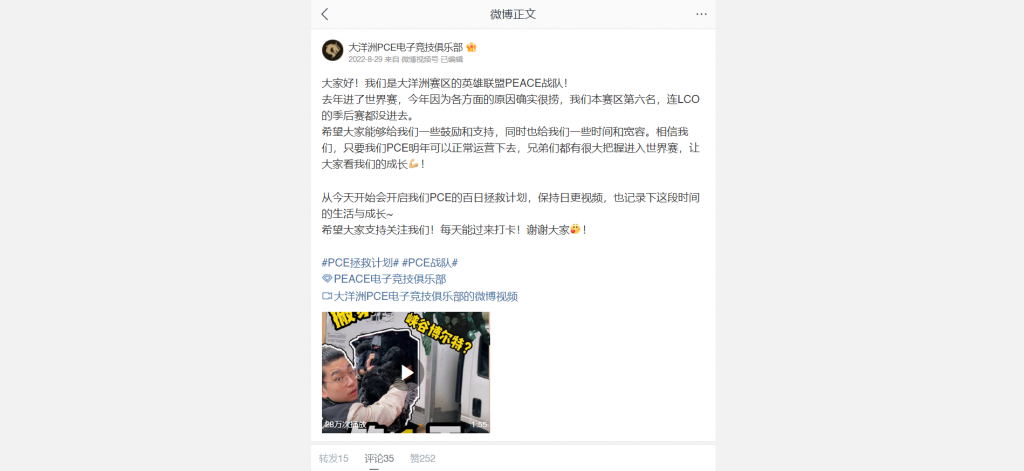 After a Split 2 to forget, which saw them go from 8-7 and fighting for playoff contention to finishing 9-12 and missing out on the best-of-five stage entirely, it was evident that the team needed a rebuild.
Only one player from 2022 remains, that being bot laner Wang "Chayon" Yun-Cheng, having been part of the organisation since their origins in 2021, when the team acquired Avant Gaming's spot.
Chayon split time in the bot lane with Vincent "Violet" Wong in Split 2 of 2022, but is set to resume his sole possession of the starting role once again, as he did in Split 1 of last year.
Joining him are four international players. Top laner Lin "Weizhe" Wei-Zhe, jungler Shaka, midlaner Zhang "NuL1" Ji-Ya and Support Hu "Cloud" Zhen-Wei.
Weizhe and NuL1, who are both from Taiwan, will join the LCO having spent most of 2021 and 2022 playing in the League of Legends School Championship, a Taiwanese collegiate-level tournament.
Weizhe has spent his time with LIT since 2021, both as a top and mid laner, and has seen his squad through three championships in three years: 2021 Summer, 2021-2022 Winter and 2022-2023 Winter.
He also spent time with Singaporean organisation Impunity during PCS Spring 2022, playing in the top lane under the name Quiet, ending the season 6-12 and finishing eighth.
NuL1 has spent time in the midlane with Vanung University Lions since 2021. His team have been a consistent top-of-the-table mainstay in his tenure with the Lions, with consistent top three finishes since 2021 Summer, including a championship in Summer 2022.
He has also spent time with SuperEsports and ahq fighters in 2018 and 2019, playing with both teams in the ECS — the second division of the former League of Legends Master Series.
Details are hard to find and confirm for this team's jungler and support as of right now. It was initially reported Yang "Ko1eee" Zhen-Yu joined the team as the jungler, but when the LCO released their promotional video last week, it instead listed the name Shaka playing in that position.
There is a chance that Ko1eee, last seen as a substitute for Alpha Esports of the PCS in 2020, has renamed to Shaka, but we will need to wait and see.
Details are even harder to find for their support. In the same video, the starting support was listed as a player named Cloud. Whilst it is unconfirmed, this is potentially going to be Hu "Cloud" Zhen-Wei, an experienced support from China.
Cloud last played professionally in 2021 with Kaisa Gaming in the LDL, the academy/secondary league in China. Cloud also played off and on in the LPL between 2015 and 2017, playing for OMG, QG Reapers and JD Gaming.
It is hard to judge how this team will do competing in the Oceanic league. I suspect that this team will be looking for and expecting to be in playoffs contention, although they are very much a 'wait-and-see' quantity at this stage.
---
This concludes Snowball Esports look at the teams contesting split 1 of LCO for 2023. Snowball will continue to have weekly coverage of the league, with Predictions starting once again later today.